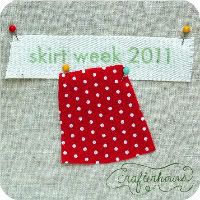 I'm not sure if everyone has already heard read seen, (whatever) but Crafterhours is hosting Skirt Week 2011 during the month of June! The deadline for entry is the 17th, and there are four categories to choose from. You can enter up to 3 skirts each in the Full, A-line, Straight, and Children's Skirt categories.
I don't know about you, but every time I see one of these series events on one of my favorite blogs, I make BIG plans. Then my mind starts moving faster than my hands, life sets in, and I end up not having anything to submit at all! Skirts are super easy, and there is no way that I'm letting that happen this time.
My goal is to finish 4 skirts before the 17th rolls around. Not necessarily one for each group, but 4 total. The good thing about this event is that you can enter skirts that you made anytime in the past year! How super is that? I'm sure some of you have things in your closet that you can enter right now, no sewing involved.
And did I mention the Prizes? Well lets just say They are AWESOME! There will be 2 winners from each category. One chosen by the judges and one voted on by the readers. That gives you eight chances to win! Go here to see all the prizes they are giving out.
Now go bust out the sewing machine and make something for yourself for a change!
I can't wait to see what you come up with.
Thanks for Visiting!